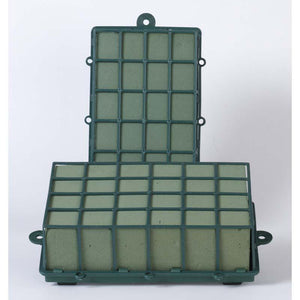 FloraCraft
Artesia® Petite Cage - 4.625in x 3.75in x 3.25in with Foam
Regular price
$2.86
$0.00
Unit price
per
All cages are of a high quality plastic, filled with Artesia® wet foam, and are refillable. 
The Petite Cage includes a handle for placement on an easel. The size is 4.625 inch  x 3.75 inch  x 3.25 inch
Other sizes available with Artesia wet foam include:
Petite Cage - 4.625"x 3.75"x 3.25"
Sympathy Cage - 9.5"x 4.75"x 3.25"
Superior Cage - 7.5"x 5"x 3.375"
Grande Cage - 12.75"x 7"x 3.75"
Ultimate Cage - 9.25"x 5"x 3.5"
---