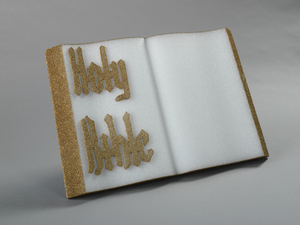 FloraCraft
Bible - 24" x 16" x 2" Gold Styro Letters and Gold Edges - CraftFōM®
Regular price
$29.99
$0.00
Unit price
per
STYROFOAM™ shaped as an open Bible with 5 inch gold lettering and gold edges is ready for immediate display. 
This item size is 24 inches wide x 16 inches tall x 2 inches thick with 5 inch gold styrofoam lettering.
Also available in Plain White for easy decorating; or with Gold lettering and painted black backing. 
 Size Range: 
--- 18"x 12"x 1.5"- 5" Gold Raised Styro Letters and Edges 
--- 24"x 16"x 2"- 5" Gold Raised Styro Letters and Edges
---