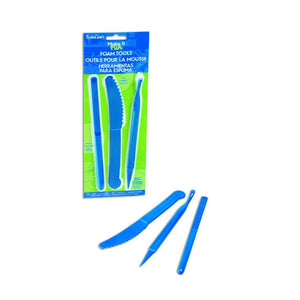 FloraCraft
Foam Tool Set - 3 piece
Regular price
$3.49
$0.00
Unit price
per
Floracraft's Make it Fun Foam 3 piece Tool Set includes the essential tools for today?s creative crafter! 
Designed for use with styrofoam crafts and projects in mind to make even the most delicate project simple and fun. 
The Three Piece Tool Set includes:
--- Shaper - For smoothing cut marks, rounding edges and delicate sanding of foam. 
--- Knife - Serrated blade for cutting shaping FloraCraft? Foam & STYROFOAM? Brand Foam. 
---Tuck & Scribe - Use the flat beveled end to "tuck" fabric, felt, and ribbons in to FloraCraft Foam & STYROFOAM? Brand Foam. Use the rounded end to trace patterns and guidelines that won't rub off. 
Includes how to illustrations on the package.
---