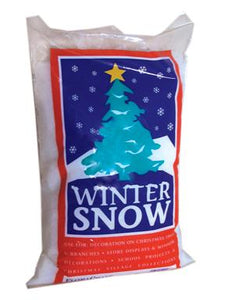 FloraCraft
Snow - Ground CraftFōm® - 4 liter bag
Regular price
$5.50
$0.00
Unit price
per
Use this lightweight, versatile CraftFōm® snow in your next project! CraftFōm® ground as fine as snow can be used in display projects, as a filler material in floral containers or in your next batch of slime!
Dimensions: 4 liter bag
Color: White
Type: CraftFōm®(XPS)
There are endless possibilities to use CraftFōm® to wow your family and friends. Paint, cut, glue or glitter your creation to fashion a unique look. If you need ideas for your next project, visit our Project Ideas page for inspiration.
Do you need a lot of this item? If so, we offer wholesale opportunities for bulk orders. Click here to learn more.
What is the difference between Styrofoam® and Fōm®? This is a common question among craft enthusiasts as most individuals refer to all craft foam as styrofoam. However, like the Kleenex vs. facial tissue scenario, Styrofoam® is a registered trademark of the Dow Chemical Company ("Dow") and Fōm® is a registered trademark of FloraCraft. Both companies provide craft and floral foam products. Click here to learn more about the various foam types and uses.
---